Climbing Courses for Kids
September – December 2021
For the school year 2021/2022, we are preparing climbing trainings and circles in smaller groups. In each climbing group, there will be a max. 8 children. The training schedule is therefore prepared for each day in two terms. The duration of one training is 75 minutes. Children can attend training several times a week.
Thanks to smaller training groups, we will provide a more individual and quality approach to children and their climbing needs.
Climbing lessons – 1st Trimester – 2021/2022
06.09. – 22.12.2021
Time
Time
Numebr of lesseons
Monday
15:30 – 16:45 (b)
16:45 – 18:00
15
Tuesday
15:30 – 16:45
16:45 – 18:00
16
Wednesday
15:30 – 16:45 (b)
16:45 – 18:00
14
Thursday
15:30 – 16:45
16:45 – 18:00
14
Friday
15:30 – 16:45 (b)
16:45 – 18:00 (b)
14
b – beginners
Login
You can register by e-mail at info@k2zilina.sk or directly by phone (during opening hours) at no. +421 948 255 307. Just report the name, surname of the child, and the date on which you want to go to training.
Do not send the application. Bring the signed application on the day of arrival to the first lesson.
According to the current epidemiological regulations of the Public Health Office, it is necessary to document the required documents or test results for COVID-19.
Climbing lessons

Price: 9€/ lesson
1 lesson: 75min.
Climbing shoes are required.
For 6yo (5,5) kids and older
[/hoot_one_third]
Price includes

The entrance fee during lessons
Climbing instructor
Rental fee – climbing harness, magnesium chalk + chalk bag
Climbing shoes not included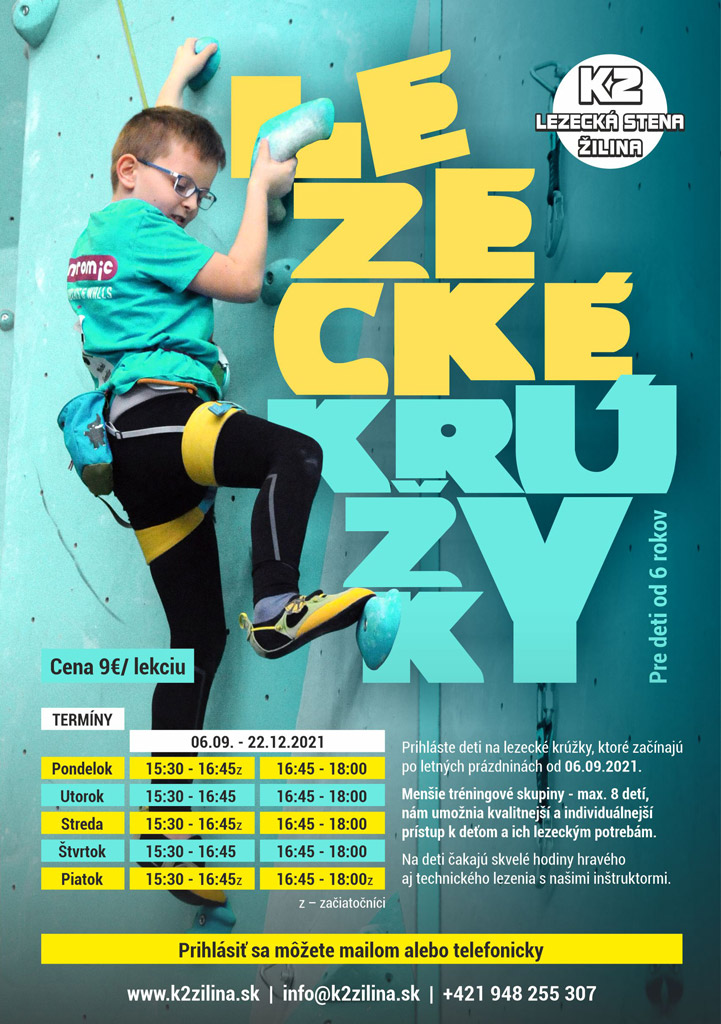 Platbu za celý tréningový blok je potrebné uhradiť najneskôr 5 dní pred začiatkom kurzu na účet: Tatra banka a.s., 2623013421/1100, IBAN SK47 1100 0000 0026 2301 3421. Do správy pre prijímateľa uveďte meno dieťaťa a heslo "Krúžok".
Description
Climbing lessons run under the guides of climbing instructors. Children train in divided groups into beginners and moderately advanced climbers. During the school year, we have 3 rounds (trimesters) of training blocks.
We are offering climbing in form of motion and games that increase children´s strength, fitness, very important developmental coordination of movements, and overall physical development. Climbing itself is supplemented by stretching exercises, exercises for muscle imbalance before and after training.
Kids train in groups for beginners and medium-advanced under the direction of the coach. The duration of on training is 60 minutes. Payment of the course is due to the first lesson.
Recommendations
Sportswear
Drinking regime
Parents
During training you should wear sportswear. In case the child does not have climbing shoes, it is more tightly sporting shoes such as football boots (without studs), exercise shoes, or shoes.
We recommend wearing a bottle of water (the best clean water). Please do not carry food training, consumption during training disrupts training.
It is more appropriate if the parent is not present during the training. The presence of parents disturbs training. Parents who will come to pick up their kids after training will wait for the baby in the bar – the front of the climbing wall. If the child is to be helped during the dressing, please ask the parents to ask the attendant to go through the turnstile.