Climbing Courses for Kids
2nd Trimester – 2018/2019
Time
1st training
Last training
Climbing courses
Monday
16:30 – 18:00
07.01.2019
25.03.2019
Tuesday
16:30 – 18:00
08.01.2019
26.03.2019
Wednesday
16:30 – 18:00
09.01.2019
27.03.2019
Thursday
16:30 – 18:00
10.01.2019
28.03.2019
Friday
16:30 – 18:00
11.01.2019
29.03.2019
Climbing training
Tuesday, Friday
16:30 – 17:45
07.01.2019
29.03.2019
Basic Info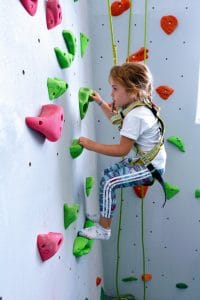 We are offering climbing in form of motion and games that increase children´s strength, fitness, very important developmental coordination of movements and overall physical development. Climbing itself is supplemented by stretching exercises, exercises for muscle imbalance before and after training.
Kids train in groups for begginers and medium advanced under the direction of the coach. Duration of on training is 60 minutes. Payment of the coures is due to the first lesson.
Application Form
Send us filled application form via e-mail:  info@k2zilina.sk or bring us personally.

The training block must be paid before the first meeting.

Climbing courses

Price: 114,00€/ training block

12 lessons
1 lesson: 90 min.
Max. number of kids in group: 12
Climbing shoes are required.
Suitable from age o f6 (5,5) yo.
Climbing training
Price: 150,00€/ training block

24 lessons
1 lesson: 75 min.
Max. number of kids in group: 4
Climbing shoes are required.
Price includes

Entrance fee during lessons
Climbing instructor
Rental fee – climbing harness, magnezium chalk + chalk bag
Climbing shoes not included
Recommendations
1During training you should wear sportswear. In case the child does not have climbing shoes, it is more tightly sporting shoes such as football boots (without studs), exercise shoes or shoes. We recommend wearing a bottle of water (the best clean water). Please do not carry food training, consumption during training disrupts training.
2It is more appropriate if the parent is not present during the training. The presence of parents disturbs training.
3Parents who will come to pick up their kids after training will wait for the baby in the bar – the front of the climbing wall. If the child is to be helped during the dressing, please ask the parents to ask the attendant to go through the turnstile.
Contact: Lenka Micicova, +421 948 78 55 78