Instructions for

New Visitors
When entering the climbing wall for the first time, it is necessary to fill in and sign the registration form. After signing, you will receive a membership card, which you will use to prove each time you enter. Climbers under the age of 18 must sign the form with a legal representative. Each visitor must be acquainted with the Regulation Rules.
New visitors

without climbing experience
Without climbing experience and especially without experience with belaying, it is not safe to climb alone on a climbing wall. It is necessary to either go through a certain instruction – A climbing course of belaying for beginners or arrange an experienced escort – Personal Belayer.
Climbing Course of Belaying for Beginners
After completing the course, you will be able to climb independently with the top rope, tie to the rope, properly secure your fellow climber, communicate and behave safely on the wall.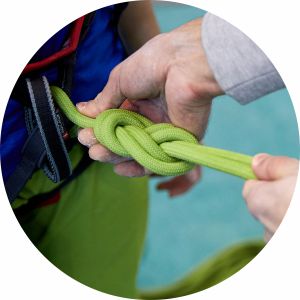 Privat Belayer
You will be accompanied on the wall by a qualified instructor, the so-called A "personal belayer" who oversees your safety will safely secure you while climbing and instruct you on safe behavior on the wall.
New visitors

with climbing experience
It is not necessary to order in advance for the climbing wall. You simply come, pay the entrance and climb. Entry to the wall is not limited in time, so you can climb as long as you rule.
Children under the age of 15 may only enter the climbing wall if they are accompanied by a responsible adult, who will constantly supervise them. They may only climb in a child seat harness (chest), which is fastened to the chest. If the child is an experienced climber, he may be allowed to climb in a classic climbing harness. We recommend that children wear climbing helmets!