Anatomic Boulder Star 05.09.2020
We sincerely invite you to the second year of the Anatomic Boulder Star – bouldering race. It will take place on 5 September 2020 on the outer wall in the K2 climbing center in Žilina.
The system remains the same as a year ago – 5 qualification boulders, 4 final boulders, all OS system (5min climbing, 5min rest).
The performance limit in the men's category is the same – we do not allow the participation of climbers who were in Slovakia or. Czech 2019 in the top 10. In the women's category, the competition is relatively low, so there will be no limitation.
Boulders will be created by routesetters Lukáš "Luigi" Kirsch and Marek Repčík. We are preparing a livestream from the qualification and from the final.
The accompanying event will be the Ocun Test Day and the Anatomic exhibition stand with the latest climbing hold models. We tried to shorten the overall program of the race, as the festival will take place at the same time, so you can catch both;)
During the race, the entrance to the climbing center will be 50% off – apart from the isolation, the race is only in the outdoor area, everything else remains normally open.
Marek
Program
9:00 – 9:30 Registration women
10:00 – 12:00 Qualification women
11:00 – 12:00 Registration men
12:30 – 15:30 Qualification men
16:00 – 17:00 Finals women
17:30 – 18:30 Finals men
Start Fee: 13€
Prices
1st place men 200,- Eur
1st place women 200,- Eur
2nd, 3rd places – material prices
Registration
Please fill the online registration for easier management reasons. Registration is online until 03.09. 23:00.
Online registration
Rules
Qualification: 5 boulders, 5 min/ boulder, 5 min rest, On-sight
Finals: 4 boulders, 4 min/ boulder, 4 min rest, On-sight
Scoring: number of tops, munber of zones, number of tries on tops, number of tries on zones
Routesetters: Lukáš "Luigi" Kirsch a Marek Repčík.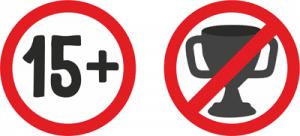 Only climbers who are not in the Slovak, or Czech cup 2019 in the top ten . Only climbers older than 15 years can participate in the competition.
Sponzori: Anatomic, K2, Ocun, Singing Rock, Techwood, Planika