Due to the situation with COVID-19, the K2-KID Open race is canceled.
We will inform you in advance about the new date.
K2-KID Open 04.04.2020
We kindly invite all children and parents to the second annual lead climbing competition – K2-KID Open. We look forward to seeing you on Saturday 04.04.2020. The program is divided into two parts by categories. Younger children U10 and U12 will register from 8:30 am and race in the morning. Older classes U14 and U16 starts at 12:00. Preregistration is done online.
Competitors will compete in two qualification routes and one final. Separate roads will be prepared for each category.
Schedule U10, U12
Registration 8:30 – 9:30
Qualification 9:30
Finals – after qualification
Schedule U14, U16
Registration 12:00 – 13:00
Qualification 13:30
Finals – after qualification
Categories
U10 – year of birth 2011 and younger
U12 – year of birth 2010 – 2009
U14 – year of birth 2008 – 2007
U16 – year of birth 2006 – 2005
Prizes for winners
Start fee: 6€
Registration
To reduce the registration time, we kindly ask all parents and coaches to complete the registration. Online registration is optional and launched by 03.04. 23.00.
Online registrácia
Rules
According to the current rules of the Slovak Cup in climbing for children.
List of registered competitors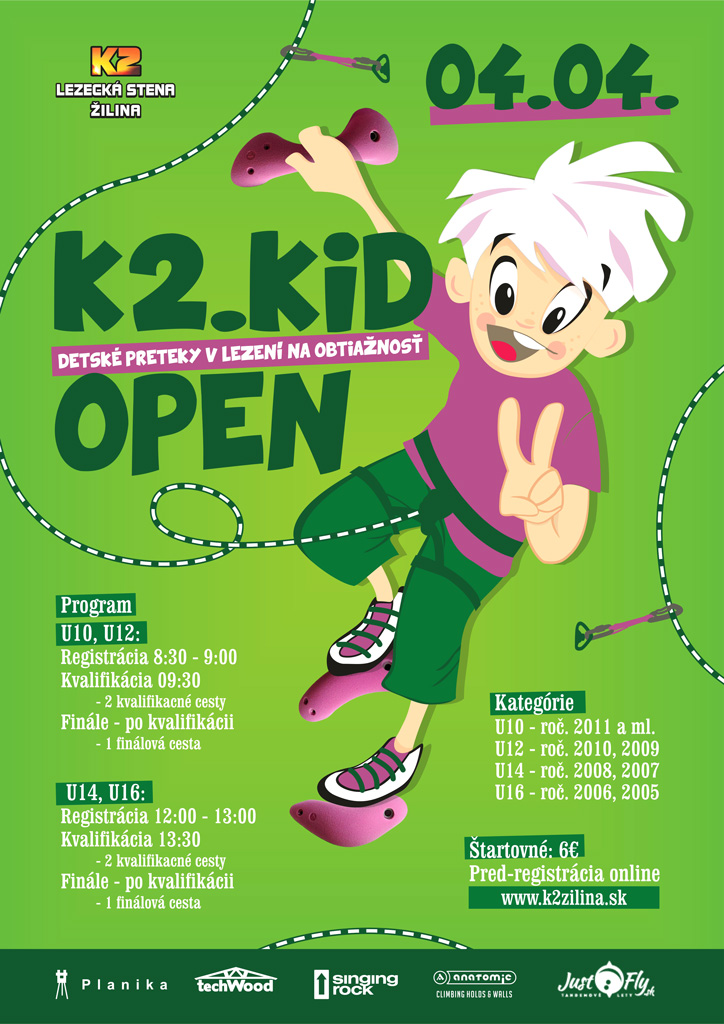 We are looking forward to you!